Tips To Ensure The Safety Of Special Children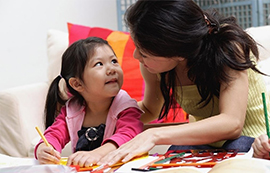 Parents of special children lead a very special kind of life. They always take care of the emotional and physical needs of children and groom their behavioral patterns quite often. Having a gifted child is extremely beautiful but taking care of them is indeed a hard nut to crack. The special education courses for parents guide them to learn various methodologies using which they can get their children in the mainstream.
Tips to keep special children safe:
Appliances: Parents should understand that often the household appliances attract their children who are specially-abled. Stoves and burners should have safety locks or some kind of control panel that is hidden. Accidents occur without any prior information and hence, not a single page should be left unturned.

Vacuum cleaners, hair straighteners, curlers, lighter, etc., must be kept beyond their reach. Parents should be careful enough to maintain this decorum because if children come close to these appliances, they can get severely hurt.
Sharp objects: This is extremely vital. Gifted children actually possess a lot of creativity and they always tend to pick up pieces of stuff and create something beautiful. Let's assume that they know how to use a scissor or tape but then again, parents must never lose focus on such sharp items.

Children while grabbing a pair of scissors or a knife can cause themselves harm. Also, if they ever get injured because of any sharp object they can develop a sense of fear from that object. Thus, they may never want to use those.
Switchboards: It is one of the most important duties of parents to check if the switchboards are working perfectly. Special children do know how to use the switches and even a minute amount of carelessness can cause a huge loss. Parents must make sure that the house is properly earthed. Without proper earthing of the wires, there is a huge risk of a short circuit.
Boundary: If your house is having a boundary that is not apparently strong, without making any further delay, use the best techniques to strengthen it. Often, children with special abilities have a certain neurological behavioral pattern that makes them wander in the garden or any equivalent open space. You never know how their minds will work and they might sometimes want to go beyond the boundary. To avoid any such risk, make sure that the boundary around your home is robust and rigid.

Thus, parents must be responsible enough to make sure that all the appliances, the sharp objects, the electrical wiring, boundaries, etc., are working properly in order. There might be certain scenarios when parents will be busy but that should not be any kind of excuse. Having special children is a blessing but taking proper care of them is definitely tough. Special education courses for parents will help.

It's alright to be worried sometimes but remember that those precious lives are always looking up to you, the parents. They need huge emotional support and accurate guidance to grow up and get along in the mainstream.
Kolkata Office
Merlin Acropolis, Unit No 15/4, 14th Floor, 1858/1, Rajdanga Main Road, Kolkata, 700107
+91-6292150868
+91-6292137532
Bangalore Office
SAI PREMA', 3rd Floor, Christ Lane,No.39, Krishnanagar Industrial Area,Near Forum Mall, Koramangala,Hosur Road,Bangalore – 560 029
+91-6292150868
+91-6292137532
Mumbai Office
Dahisar, Mumbai
+91-6292150868
+91-6292137532
Disclaimer:All SEN Courses are designed, developed and created by Asian College of Teachers Ltd, United Kingdom. These courses are certified by CPD Certification Service UK and endorsed by NCC Education, UK, and Short Courses from CACHE, UK through Laser Learning UK.
© 2021 Asian College of Teachers. All Rights Reserved. Asian College Of Teachers is a trading brand of TTA Training Pvt. Ltd (India) - CIN U80902WB2016PTC215839, Asia Teachers Training Co., Ltd (Thailand) - Registration No. 0105558193360, Asian College Of Teachers Ltd (UK) - Company Number 9939942 & Asian College Of Teachers LLC, (USA) - Federal Tax Identification Number 30-1261596
Designed by kreativewebtech
SSL Certificate