International Diploma in Inclusive Teaching and Special Educational Needs
If you want to become an inclusive or shadow teacher or keep your options open for a career in special education or related fields then you will find our exclusive program - International Diploma in Inclusive Teaching and Special Educational Needs apt to develop the expertise in inclusive education. The program divided into 2 modules alongside Microteaching comprises online course content and a series of live online workshops to develop your knowledge and understanding of the different aspects of inclusive and special education like ADHD, Autism, various learning difficulties/disabilities and behavioural disorders. Participants across the globe can study the online course materials at their own pace and also get the opportunity to attend live online classes, interact with their facilitators and peers and can also collaborate in online activities. The live online sessions have been specifically designed to hone and upgrade the skills of teaching aspirants, inclusive teachers, SEN educators, shadow teachers,SEN coordinators and other professionalswithout setting any locational limitations. As per a recent study, it was found that 92% of live online workshop attendees want a live question and answer session at the end of the webinar. Hence, we have kept this much-needed special feature in our live online workshops. Other modern features that are included in our live online workshops are as follows:
| | |
| --- | --- |
| text chat | screen-sharing |
| slide deck | whiteboard |
| live demonstration | surveys and polls |
Why should you attend?
An ideal course for those planning to get into inclusive teaching
Live online sessions apt for working teaching professionals
A perfect blend of self-paced and interactive learning
Trainees will get opportunity to attend live online classes
Text communication via chat messaging
Individual attention paid to one and all
Collaborative activities with your trainers & peers virtually
Attend our web sessions from anywhere
Cost-effective without the hassle of traveling
Complete tutor support for online study module
Certification
Successful trainees will receive a globally recognized certificate from Asian College of Teachers (ACT)
All ACT Courses are accredited by International Association for Quality Assurance in Higher Education (QAHE)
All SEN Courses are certified by CPD Certification Service UK
ACT is a member of The National Association of Special Education Teachers (NASET)
ACT is an institutional member of International Association of Special Education (IASE)
Trainer Profiles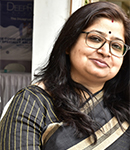 Dr Amrita Panda is a Doctor of Philosophy, Experimental Cognitive Psychology & Rehabilitation, University of Calcutta and holds Master Degree in Experimental Psychology, University of Calcutta. She has also completed Certificate Course in Music Therapy, Chennai School of Music Therapy, India in association with IMC University of Applied Science, Krems, Austria and Certificate course on Applied Behavior Analysis, Geneva Centre for Autism, Toronto, Canada.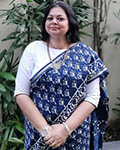 Ms. Anamika Mukherjee is a CACHE certified teacher trainer with 5+ years of rich experience in teaching adults.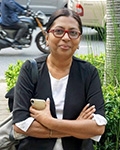 Ms. Kuhurina Basu holding M.A., M.Sc., has 30 years of teaching and 10 years of administrative experience in Mumbai, India and London, UK. She is CACHE certified teacher trainer and has been Master Trainer and Centre Head for the Cambridge International Diploma for Teachers and Trainers in Navi Mumbai. She has also served as ESOL tutor, mentor and administrator at East London Business College, London.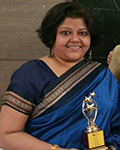 Ms. Aditi Ghosh is an internationally certified trainer in the field of Special Education with an extensive experience of 17 years in training adult learners.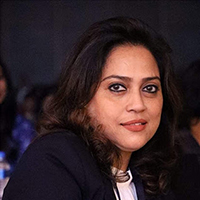 Ms. Rimpa Ghosh holds B.A in English from the University of Calcutta. She has done the 120-hour in-class TESOL program and successfully cleared the TESOL Canada Board Exam. She is also a certified IELTS trainer and her areas of expertise are Communicative English, Early Childhood Education, Experiential Learning, Leadership Skill Training and Mentoring and Soft Skills training. She has facilitated a variety of training programs with adult learners.
Curriculum
MODULE 1
Module 1 comprises online course content on Special Educational Needs with a focus on ADHD, Autism and Learning Disabilities. The participants get online access to the module, learn at their own pace and take MCQ test at the end of Module 1.
ADHD
ADHD Phase 1: Understanding students
ADHD Phase 2 : Diagnostic Process
ADHD Phase 3 : Are they putting in the Effort?
ADHD Phase 4 : ADHD and Brain Activation
ADHD Phase 5 : ADHD and Activity Level
Autism
AUTISM Phase 1 :Meet Autistic Students
AUTISM Phase 2 :Understand the common characteristics of HFA/AS
AUTISM Phase 3 :Discover how your students think
AUTISM Phase 4 :Nurture students' social skills
AUTISM Phase 5 :Encourage language reciprocity
Learning Disabilities
LD Phase 1 :Understanding Learning Disabilities
LD Phase 2 :Identifying Students with LDs
LD Phase 3 :Making sense of the IEPs
LD Phase 4 :Understanding Service Locations
LD Phase 5 :Learning the Right Teaching Strategies
MODULE 2
Module 2 comprises a series of live online workshops given below.
Our SEN live online workshops comprise of online course access and online assignments along with interactive online sessions. Before the beginning of the session, all participants will get access to the online course materials. The web sessions will be facilitated by multiple expert trainers who will help you with your lessons and assignments. The sessions being held live online, are quite interactive and let the participants interact with each other along with a bunch of interesting activities facilitated by the trainer. The online assignments will be evaluated by our trainers/tutors at the end of the program.
There will be live demonstration of inclusive classroom during the webinar.
Microteaching
Microteaching is an important part of this program. The objective of microteaching is to make the learning effective and meaningful for the trainees. After completing the 2 modules all the trainees have to send a microteaching video (as per instruction) to their coordinators. The videos are evaluated by the trainers/tutors and suitable feedback is provided to the trainees.
Date
| | | | |
| --- | --- | --- | --- |
| Role of IEP with Supporting Diverse Learners in Inclusive Classroom | 3rd June 2023 | 3 pm to 6pm | Saturday |
| Differentiated Instruction and Assessment | 10th June 2023 | 3 pm to 6pm | Saturday |
| Art and Music Therapy for SEN students | 17th June 2023 | 3 pm to 6pm | Saturday |
| Diagnosing and Observing children with Autism Spectrum Disorder | 23rd June 2023 | 2 to 5pm | Friday |
| Empowering Students with Learning Disabilities | 6th May 2023 | 3 pm to 6pm | Saturday |
| Managing ADHD in an Inclusive Classroom | 13th May 2023 | 3 pm to 6pm | Saturday |
| Supporting Children with Autism Spectrum Disorder (ASD) in an Inclusive Classroom | 20th May 2023 | 3 pm to 6pm | Saturday |
| Managing EBD (Emotional Behavioural Disorders) | 27th May 2023 | 3 pm to 6pm | Saturday |
Duration & Fees
Course fee - INR 35000
Duration - 4 months
Kolkata Office
Merlin Acropolis, Unit No 15/4, 14th Floor, 1858/1, Rajdanga Main Road, Kolkata, 700107
+91-6292150868
+91-6292137532
Bangalore Office
SAI PREMA', 3rd Floor, Christ Lane,No.39, Krishnanagar Industrial Area,Near Forum Mall, Koramangala,Hosur Road,Bangalore – 560 029
+91-6292150868
+91-6292137532
Mumbai Office
Dahisar, Mumbai
+91-6292150868
+91-6292137532
Disclaimer:All SEN Courses are designed, developed and created by Asian College of Teachers Ltd, United Kingdom. These courses are certified by CPD Certification Service UK and endorsed by NCC Education, UK, and Short Courses from CACHE, UK through Laser Learning UK.
© 2023 Asian College of Teachers. All Rights Reserved. Asian College Of Teachers is a trading brand of TTA Training Pvt. Ltd (India) - CIN U80902WB2016PTC215839, Asia Teachers Training Co., Ltd (Thailand) - Registration No. 0105558193360, Asian College Of Teachers Ltd (UK) - Company Number 9939942 & Asian College Of Teachers LLC, (USA) - Federal Tax Identification Number 30-1261596
Designed by kreativewebtech
SSL Certificate