SEN Online Workshop – Asian College of Teachers
Overview
What is an inclusive school community? Why is this model more beneficial for all students?
Inclusion is a way of thinking and structures that allow all individuals to feel accepted, valued, and safe. An inclusive school and classroom community consciously evolves to meet the changing needs of its members. Through recognition and support, an inclusive community provides meaningful involvement and equal access to the right to education. Inclusion can enhance the well-being of every member of the community. By working together in collaboration, we can all create a foundation for a better future for everyone!
Topics to be covered
This session will introduce participants to: -
How a philosophy of Inclusion supports:
All individuals more
Right to a quality education
Enhances the well-being of every member of the community
Promotes participation, belonging, and caring interactions
Valuing diversity
Perspectives, voice, and understanding
Moving away from deficit mindsets
Workshop Date : 8th April, 2023
Batch timing :  3 pm to 5 pm IST
Trainer: Dr Janat Blackmon
Topic:  Inclusive Classrooms
Trainer Profile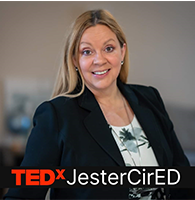 Dr Janat (Ph.D., M.Ed., B.Ed. ICF-ACC, DTM) is an international educator, speaker, and trainer from Canada. She has a doctorate in Education Leadership and has a wealth of knowledge of international training, teaching, and culturally responsive leadership. She currently works at a public Montessori school with the vision of equity for all. She is a Certified Teacher from Canada, a Certified Texas Principal and Teacher, a certified ICF coach, and a Google Certified Educator. She is passionate about student agency, leadership, and social emotional learning. She has worked internationally as an administrator, teacher, reading interventionist, workshop presenter, keynote speaker, guest lecturer, and trainer on leadership, differentiation, assessment, and social emotional learning, and worked with organizations in Thailand and Myanmar for democracy in education. Dr Janat is also on the Board of Academics of Asian College of Teachers and she is passionate about changing education for the 21st century.
Kolkata Office
Merlin Acropolis, Unit No 15/4, 14th Floor, 1858/1, Rajdanga Main Road, Kolkata, 700107
+91-6292150868
+91-6292137532
Bangalore Office
SAI PREMA', 3rd Floor, Christ Lane,No.39, Krishnanagar Industrial Area,Near Forum Mall, Koramangala,Hosur Road,Bangalore – 560 029
+91-6292150868
+91-6292137532
Training Centre in Mumbai
Dahisar, Mumbai
+91-6292150868
+91-6292137532
Disclaimer:All SEN Courses are designed, developed and created by Asian College of Teachers Ltd, United Kingdom. These courses are certified by CPD Certification Service UK and endorsed by NCC Education, UK, and Short Courses from CACHE, UK through Laser Learning UK.
© 2023 Asian College of Teachers. All Rights Reserved. Asian College Of Teachers is a trading brand of TTA Training Pvt. Ltd (India) - CIN U80902WB2016PTC215839, Asia Teachers Training Co., Ltd (Thailand) - Registration No. 0105558193360, Asian College Of Teachers Ltd (UK) - Company Number 9939942 & Asian College Of Teachers LLC, (USA) - Federal Tax Identification Number 30-1261596
Designed by kreativewebtech
SSL Certificate