Supporting Kids Who Are Minimally Verbal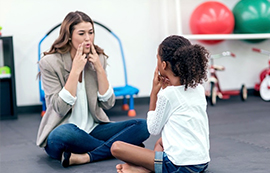 Autism spectrum disorders (ASD) are a common phenomenon and an autistic child has a different kind of developmental pace. Autistic kids are differently-abled when it comes to communicating, socializing, and behaving with other people. Not all autistic kids face difficulties in speaking but non-speaking autism is a real challenge.

Children with autism who have issues with nonverbal communication require continuous support and care. According to research 25-30% of autistic children have problems in verbal communication. Schools these days appoint special education needs teachers who understand the thought process of special kids and thereby cater to their needs. Autism courses for teachers give lessons to special education teachers who want to associate themselves with the welfare of gifted children.
Kids with non-speaking autism are minimally verbal but they can hear and understand what they are being told.
Signs of minimally verbal autistic kids:
Some autistic kids have different neurological functions because of which the brain development is not in perfect order. As a result, their speaking power is not that fluent and they cannot speak without an interruption.

Having low communication skills often hampers the speaking trait of an autistic kid. It worsens with passing days and language development is quite low.

Autistic children who have problems with speaking use certain devices or other methods to communicate. They often use sign language or write something on a piece of paper.

Minimally verbal autistic kids have problems in sharing emotions with others. Besides, they face huge difficulty in developing relationships with others.

They have issues with nonverbal gestures as well. Their body language is different from ordinary kids. They are unable to make proper eye contact.

Sometimes, non-speaking autistic kids are either over-excited or under-excited about any activity. If they are over-excited, they do not want to do anything else apart from that tasks. When they are not interested in any task, they will not even look at it.

There are certain early signs of minimally verbal autistic kids which if noticed must be consulted by a doctor immediately. If found out that the kids are not responding to their names by 12 months old or not showing any hand movement or any other gesture, those are red flags.

Within a year of a child's birth, he/she can show facial expressions like sadness, anger, happiness, etc. If you notice that your baby is not showing expressions then it is an early sign of non-speaking autism.
Supporting children having non-speaking autism:
Generally, therapies and a different set of behavioral patterns are used for minimally verbal autistic kids so that their development does not stop. Such methods mainly focus on the regular engagement of autistic kids with other children so that their communication skills increase. They will also learn how to respond to a particular action and will be able to show emotions effectively.

There are multiple methods by which non-speaking autistic students can be supported so that they can get along with the mainstream classroom and can communicate hassle-free. These techniques help in speech correction and hence those kids do not repeat words continuously. They can also speak without any interruption.
Classroom session: In a class full of special kids a different style of communication flows where children share their feelings and emotions. Minimally verbal kids have been observed to grow better in such a classroom session. Behavioral patterns consisting of skills have helped autistic kids to grow better in terms of their speaking skills.

Medicine: To be very honest, there is no particular medicine to cure autism or to improve the verbal abilities of a kid. Then again, anxiety, depression, mood swings, etc., are certain added items that special kids often carry. To keep their mind sane and to get rid of such sadness, often doctors prescribe pills.

Counseling: Sometimes a family counselor helps both parents and special kids to communicate with each other freely. Parents often feel guilty about not being able to understand the emotions or thought processes of their gifted children. Counselors help parents to get rid of their guilts by making them believe that it is not always possible to realize the actions of specially-abled kids.

Pediatrician: You should always consult a pediatrician for your special child since having healthy food is necessary. As the communication skills of those children are not clear, therefore, any kind of discomfort in their body or mind won't get revealed. Thus, parents of special kids should always focus on keeping their children healthy.

Non-speaking autism is not very uncommon but nurturing such kids and catering to their needs is not that easy? Teachers who love associating themselves with gifted children learn scientifically appropriate methods by pursuing AUTISM courses for teachers. They have a good deal of experience in taking care of special kids and they perform their job with utmost dedication.
Kolkata Office
Merlin Acropolis, Unit No 15/4, 14th Floor, 1858/1, Rajdanga Main Road, Kolkata, 700107
+91-6292150868
+91-6292137532
Bangalore Office
SAI PREMA', 3rd Floor, Christ Lane,No.39, Krishnanagar Industrial Area,Near Forum Mall, Koramangala,Hosur Road,Bangalore – 560 029
+91-6292150868
+91-6292137532
Mumbai Office
Dahisar, Mumbai
+91-6292150868
+91-6292137532
Disclaimer:All SEN Courses are designed, developed and created by Asian College of Teachers Ltd, United Kingdom. These courses are certified by CPD Certification Service UK and endorsed by NCC Education, UK, and Short Courses from CACHE, UK through Laser Learning UK.
© 2021 Asian College of Teachers. All Rights Reserved. Asian College Of Teachers is a trading brand of TTA Training Pvt. Ltd (India) - CIN U80902WB2016PTC215839, Asia Teachers Training Co., Ltd (Thailand) - Registration No. 0105558193360, Asian College Of Teachers Ltd (UK) - Company Number 9939942 & Asian College Of Teachers LLC, (USA) - Federal Tax Identification Number 30-1261596
Designed by kreativewebtech
SSL Certificate