Smartboards For Smart And Special Children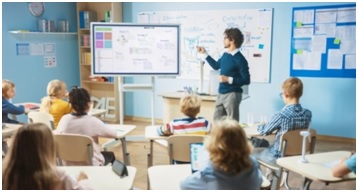 Whenever it comes to deal with interactive whiteboard activities or digital assistive technology for special education needs kids, often the outcome has not been that productive. It is because interactive whiteboards in the special education classroom have been video-based at a major proportion while these students are not passive learners.

What matters the most in a SEN classroom is student engagement. Online special education courses for teachers are blended with the latest technological methodologies where special education teachers, besides imparting knowledge, learn how to make an interactive whiteboard session. Children with special needs will be highly benefited from these interactive whiteboards in the classroom.

Multiple problem-solving techniques can be acquired in real-time by using whiteboards to teach children with special needs. Smartboards are blessings because they help to practice the lesson plan made for the gifted kids accurately. It's not just video games or YouTube videos that the screen readers should through to learn because this process does not involve any hands-on practice sessions for those kids.

Therefore, it's high time to talk about the Do's and Don'ts of interactive whiteboards in a batch of gifted children that a special education needs (SEN) teacher must be aware of.
DO's
1. Special children love visual activities and that is why whiteboards should be used for songs or audible books. While teaching them how to do an activity, teaching videos can be used in these smartboards.

2. Dealing with smartboards must be taught to gifted children so that they can have easy access to use them. They can use it multiple times to learn certain activities without any obstacle.

3. Do use it for interactive programs the students use.

4. SEN teachers must make sure that all students should be actively participating in this digital learning process.

5. Small groups must be made so that students can learn in a better manner.
DON'TS:
1. Never watch videos without any engagement with the board.

2. Interactive sessions with the whiteboards should not be formulated in such a way that goes beyond the potential or capacity of the special kids.

3. Scenarios like students waiting for a program to run for a long time just because the software is not functioning smoothly should not arrive at any cost. This frequently hampers the interest level of the kids.

4. Only teachers should not control the whiteboard. The system should be smooth and hassle-free enough for the kids to practice as well.

5. It should never be a time-passing activity.
Hence, using digital assistive technology teachers can do wonders in the field of proving special education to extraordinary kids. There are multiple special abilities where some may have challenges with motor skills, some with learning procedures, and others with their cognitive skills. Smartboards can help to demonstrate the activity to them just like explaining the steps of mathematics, brick by brick.

Only a perfectly trained SEN teacher can take care of special students by understanding their mentality and catering to their needs. Online SEN course is available in three levels course certificate, certificate diploma, and PG diploma. Both aspirants and professional special educators can pursue this course, and I'll personally recommend going through this YouTube channel to understand how SEN works!

It's high time for the educational sector to become smart just like smartboards are for the specially-abled kids!
Kolkata Office
Merlin Acropolis, Unit No 15/4, 14th Floor, 1858/1, Rajdanga Main Road, Kolkata, 700107
+91-6292150868
+91-6292137532
Bangalore Office
SAI PREMA', 3rd Floor, Christ Lane,No.39, Krishnanagar Industrial Area,Near Forum Mall, Koramangala,Hosur Road,Bangalore – 560 029
+91-6292150868
+91-6292137532
Mumbai Office
Dahisar, Mumbai
+91-6292150868
+91-6292137532
Disclaimer:All SEN Courses are designed, developed and created by Asian College of Teachers Ltd, United Kingdom. These courses are certified by CPD Certification Service UK and endorsed by NCC Education, UK, and Short Courses from CACHE, UK through Laser Learning UK.
© 2021 Asian College of Teachers. All Rights Reserved. Asian College Of Teachers is a trading brand of TTA Training Pvt. Ltd (India) - CIN U80902WB2016PTC215839, Asia Teachers Training Co., Ltd (Thailand) - Registration No. 0105558193360, Asian College Of Teachers Ltd (UK) - Company Number 9939942 & Asian College Of Teachers LLC, (USA) - Federal Tax Identification Number 30-1261596
Designed by kreativewebtech
SSL Certificate