Scope of Inclusive Education in India's New National Education Policy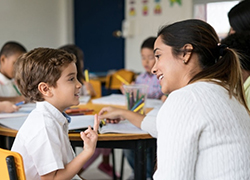 One of the prominent changes that have been announced later in the year 2020 is the new National Education Policy (NEP). After a much agonizing wait for almost three decades, the education policy of India has finally been revamped and is being considered as a new era in educational reform.

One cannot deny that preparing a centrally designed education policy for such a diverse country must be quite challenging keeping in mind the changing social and economic environment. One of the policies that have caught the attention of the public is the idea of inclusion and equity.

The education policies over the years have kept their focus on making education available for all especially children from marginalized backgrounds. However, some gaps have been identified in the policy of education of children with disabilities. Children with disabilities rarely study after completing primary school and only 9% finish secondary education. Around 45% of disabled people are illiterate and only 62.9% of disabled people between the ages of 3 and 35 have visited regular schools.
The New Education Policy in India
The new education policy has included several recommendations of disability organizations in the 2019 draft. The NEP states that children with disabilities will get equal participation opportunities across the educational system.

A worthy mention in the NEP is the recognition of the 2016 Rights of Persons with Disabilities Act (RPWD) and the services it provides for inclusive education. The act defines a system of education where students with and without disabilities study together.

The recommendations include accessible infrastructure, non-discrimination in schools, individualized supports, reasonable accommodations, use of Braille and Indian Sign language in teaching, and monitoring among others. The policy also states that special education teachers should be recruited with cross-disability training and also spreads disability awareness within teacher education.
The idea of Inclusive Education in India
The concept of Inclusive Education is not original in India and was taken from recognized international organizations like World Bank, UNESCO, etc., and started gaining exposure in India after the 1990s. The initial concept of inclusive education was limited to special education or inclusion of children with disabilities, which has witnessed some elaboration and growth in the past few years.
If you assess the NEP on children with disabilities, you can find it revolves around fours aspects –
(i) School choice
The 2012 RTE amendment stated that children with disabilities should be admitted to neighborhood schools and children with severe disabilities can choose for a home-based education whereas the RPWD stated that children with benchmark disabilities should either receive education in neighborhood schools or special schools of their choice. The NEP considers all three options– neighborhood schools, special schools, and home-based education for the education of children with disabilities.

(ii) Teacher and special educators
The NEP takes into consideration various factors of teacher education, their preparation, and conditions that are suitable for children with disabilities. It focuses on short-term specialization courses and modules on teaching children with disabilities. Teachers will also receive training for identifying disabilities, especially learning disabilities.

(iii) Assessments and curricula
Under this policy, there will be changes in the curriculum in consultation with national institutes under the Department of Empowerment of Persons with Disabilities. The curriculum will be more flexible and suit the needs of all children including special children. It is seen as a positive step as inclusion will not be viewed as a problem nor shall disabled children be asked to adjust to a system not designed for them.

(iv) Terminology of inclusion and disability
The NEP combines the various ways of education of children with disabilities into one. At one end, the policy considers disability as an individual issue to be solved through 'rehabilitation', 'mitigation' to confirm that children with disabilities 'blend more easily. On the other hand, it establishes the idea of developing an educational system where children with and without disabilities will be educated in the same classroom.

While the newly formed National Education Policy has opened several questions and points of discussion around the issue of inclusion, it has once again presented an opportunity to organize our understanding of Inclusive Education for the Indian context. If you are a special education teacher, you can enroll on a course for teaching special child and help them in learning effectively.
Kolkata Office
Merlin Acropolis, Unit No 15/4, 14th Floor, 1858/1, Rajdanga Main Road, Kolkata, 700107
+91-6292150868
+91-6292137532
Bangalore Office
SAI PREMA', 3rd Floor, Christ Lane,No.39, Krishnanagar Industrial Area,Near Forum Mall, Koramangala,Hosur Road,Bangalore – 560 029
+91-6292150868
+91-6292137532
Training Centre in Mumbai
Dahisar, Mumbai
+91-6292150868
+91-6292137532
Disclaimer:All SEN Courses are designed, developed and created by Asian College of Teachers Ltd, United Kingdom. These courses are certified by CPD Certification Service UK and endorsed by NCC Education, UK, and Short Courses from CACHE, UK through Laser Learning UK.
© 2023 Asian College of Teachers. All Rights Reserved. Asian College Of Teachers is a trading brand of TTA Training Pvt. Ltd (India) - CIN U80902WB2016PTC215839, Asia Teachers Training Co., Ltd (Thailand) - Registration No. 0105558193360, Asian College Of Teachers Ltd (UK) - Company Number 9939942 & Asian College Of Teachers LLC, (USA) - Federal Tax Identification Number 30-1261596
Designed by kreativewebtech
SSL Certificate