How to deal with students with sensory processing issues in a classroom?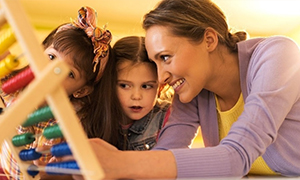 Montessorians are always considered to be advocates of children practicing self-regulation early in their life by handling their biological needs, coordinating their social collaborations, or promoting their concentration by deciding for themselves how much time is required for an activity. Moreover, we believe that the connection between a child and nature is of utmost importance and also that they need to be in touch with any substance or idea to learn or master it.

These highlights of Montessori classrooms are a characteristic fit for conditions intended to promote Sensory Integration (SI) in young children. The Human sensory framework usually adjusts itself following a predictable movement over the first 6 to 8 years of life (Kranowitz, 1998).

We can thus derive that Early Childhood and Elementary classrooms need to be arranged in a manner to promote healthy sensory development for all children, not only for those with sensory challenges.

What about children beyond 8 years of age? Have you thought about it?
Though we know that children develop quite a mature sensory system by the age of 8, each of them possesses a unique sensory profile, with tendencies toward hypersensitivities or hypo-sensitivities in each of the seven senses (vision, taste, smell, hearing, tactile sense, vestibular sense, and proprioceptive sense).

One must understand that children of all ages should be provided equal opportunities to make further adjustments and maintain their sensory health. It has also been learned that students with sensory processing issues might face trouble handling sensory input. Moreover, they often have to cope with smells, sounds, textures, and other sensations that get in the way of learning in school.
What is sensory processing disorder?
According to Dr. Lapointe, "Sensory Processing Disorder occurs when the brain and nervous system find difficulty in making a sense of incoming sensory information." The information could be coming from the outside world like sounds or smells. It could also be coming from inside the child's own body – for example, children with SPD might have difficulty understanding their body's hunger or pain signals. Children having SPD are either hyper (over) sensitive or hypo (under) sensitive when it comes to both external and internal sensory experiences.
Symptoms of SPD that a teacher might notice in the classroom.
Children with SPD are often mistaken for having cognitive delays, ADHD, or behaviour issues, depending on their symptoms. Each Individual affected by sensory processing disorder reacts differently and therefore the symptoms vary and are highly specific to each child. Here are few symptoms that a teacher might find out in a classroom:
Hyperactivity
Inattention
Clumsiness
Meltdowns
Challenges with transitions
Avoiding certain tasks
Prefers being alone
Chewing on items
Fidgeting
Poor handwriting
What classroom accommodations can help students with sensory processing issues? Here are some strategies teachers can try.
Classroom planning, routines, and schedules
Keep an unchanged daily routine if possible.
If there are routine changes, inform them beforehand.
Build-in brain breaks throughout the day.
Set clear starting and ending times for tasks.
Post visual directions, class rules, schedules, and expectations; make sure the student sees them.
Incorporate visuals with pictures of sensory input choices (print a PDF of options).
Building self-regulation skills
Choose a quiet workplace to use when needed.
Keep students seated away from doors, windows, or disturbing lights.
The student can use alternative seating, like an exercise ball or a stand-up desk.
An occupational therapist (OT) can be contacted for attaching a stretchy exercise band to the chair legs or desk for students who need to bounce their feet.
Allow the students to work in a different position, e.g. lying on the floor using a clipboard or at an easel.
Knowing and understanding the measures a teacher can take, the best way to support a child with SPD is to see and hear a child just how they are and accept them the way they are! One might also go for a special child teaching course to learn the techniques to handle sensory-sensitive children!
Kolkata Office
Merlin Acropolis, Unit No 15/4, 14th Floor, 1858/1, Rajdanga Main Road, Kolkata, 700107
+91-6292150868
+91-6292137532
Bangalore Office
SAI PREMA', 3rd Floor, Christ Lane,No.39, Krishnanagar Industrial Area,Near Forum Mall, Koramangala,Hosur Road,Bangalore – 560 029
+91-6292150868
+91-6292137532
Training Centre in Mumbai
Dahisar, Mumbai
+91-6292150868
+91-6292137532
Disclaimer:All SEN Courses are designed, developed and created by Asian College of Teachers Ltd, United Kingdom. These courses are certified by CPD Certification Service UK and endorsed by NCC Education, UK, and Short Courses from CACHE, UK through Laser Learning UK.
© 2023 Asian College of Teachers. All Rights Reserved. Asian College Of Teachers is a trading brand of TTA Training Pvt. Ltd (India) - CIN U80902WB2016PTC215839, Asia Teachers Training Co., Ltd (Thailand) - Registration No. 0105558193360, Asian College Of Teachers Ltd (UK) - Company Number 9939942 & Asian College Of Teachers LLC, (USA) - Federal Tax Identification Number 30-1261596
Designed by kreativewebtech
SSL Certificate