Career Outlook For Jobs In Special Education?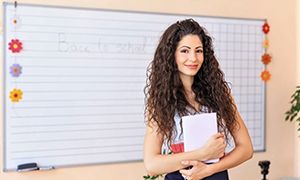 Children with various special needs require special kinds of training and education by well-trained professionals with special needs teaching assistant courses. If you have a passion for teaching with affection as well as concern for children with special needs, then this is the perfect career choice for you.

With various career prospects including teaching, instruction and curriculum development, special education industry offers lucrative career opportunities. Basically, the special education teachers work with schoolchildren who have learning, mental, emotive, or physical special needs. They acclimate over-all educational lessons and teach numerous subjects along with basic skills to students with severe special needs.
Careers Available in Special Education
Nowadays, there is a plethora of special education career selections. You may become –
Special education teacher
Early intervention therapist
Art therapist
Occupational therapist
Interpreter
Speech-language pathologist
Educational diagnostician
Special education administrator
School counsellors
Instructional coordinators
Elementary, middle, and high school principals (Here, an advanced degree in education administration or leadership may be supportive)
Even though, it is hard to grade companies or agencies that recruit special educators but you can find employment in sectors like –
Schools for special needs children
Special educator teacher in B.Ed colleges
Rehabilitation centres
Hospitals that treat children with special needs
Consultancies that provide special education trainers to Schools
According to the statistics, the career attitude for special education teachers will remain steady through 2024 with an increase of 6% to 7%.
Duties Of Special Education Teaching Professionals
Special education teachers characteristically do the following:
Evaluate the special students' aids to determine their requirements
Familiarize general lessons to meet the necessities of special students
Develop Individualized Education Programs (IEPs)
Plan, shape, and assign activities that are explicit to each special student's skills
Implement IEPs, evaluate students' performance, and track their growth
Update IEPs during the school year
Discuss learners' advancement with parents, other teachers, counsellors, and administrators
Manage and guide teacher helpers who work with students with special needs
Please note special education teachers' responsibilities differ by the kind of background they work in, students' special needs, and teachers' fortes.
Eligibility To Become A Special Education Teaching Professional
Usually, individuals who work in the special education field have a variability of college degrees with them. However, to become a special educator, you will need special educational needs teaching course degree and a bachelor's degree. Completion of a student-teaching program, and a background check both are also preferable by the recruiters. However, some places ask their candidates to own a master's degree in special education. Moreover, some recruiters also need the completion of some state-mandated teaching exams before licensure.
Skills Required In Special Education
Individuals in special education often have these skills:
Using the best training or teaching approaches for learning new things
Strong organizational and communicational skills
The special educational teachers must be instinctive enough to know the distinctions in their student's behaviour
They must have an eye for details
The special educational teacher needs to be flexible enough to adapt to the changing behaviour of the students
The special educational teacher has to behave with an even temper
Special educational teacher needs to have great listening and observational skills
These are the major individualities a special education teacher must keep to accomplish their goals. With SEN teaching assistant course, teaching professionals will be fortified enough to deal with all types of learners especially the ones with special needs.
Kolkata Office
Merlin Acropolis, Unit No 15/4, 14th Floor, 1858/1, Rajdanga Main Road, Kolkata, 700107
+91-6292150868
+91-6292137532
Bangalore Office
SAI PREMA', 3rd Floor, Christ Lane,No.39, Krishnanagar Industrial Area,Near Forum Mall, Koramangala,Hosur Road,Bangalore – 560 029
+91-6292150868
+91-6292137532
Training Centre in Mumbai
Dahisar, Mumbai
+91-6292150868
+91-6292137532
Disclaimer:All SEN Courses are designed, developed and created by Asian College of Teachers Ltd, United Kingdom. These courses are certified by CPD Certification Service UK and endorsed by NCC Education, UK, and Short Courses from CACHE, UK through Laser Learning UK.
© 2023 Asian College of Teachers. All Rights Reserved. Asian College Of Teachers is a trading brand of TTA Training Pvt. Ltd (India) - CIN U80902WB2016PTC215839, Asia Teachers Training Co., Ltd (Thailand) - Registration No. 0105558193360, Asian College Of Teachers Ltd (UK) - Company Number 9939942 & Asian College Of Teachers LLC, (USA) - Federal Tax Identification Number 30-1261596
Designed by kreativewebtech
SSL Certificate