A Complete Guide to the Individualized Education Program (IEP)
Does your child need special attention or services while studying in a school?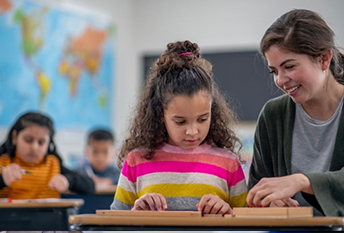 Remember, if you want your kids to receive special education services in school, you need to look for an IEP — an Individualized Education Program. To begin the process of getting an IEP, your child needs to be evaluated first. Before you get started, you need to know how the process works and your role in it.
Before getting into the details, let us find out first what an IEP is.
What is an Individualized Education Plan?
An Individualized Education Plan (or Program) is also termed as IEP. This is a plan or program developed to ensure that any child attending an elementary or secondary educational institution who has been identified with any kind of disability receives specialized instruction and related services. The IEP is developed by a team of individuals from different educational backgrounds, the child with a disability, family members, teachers, and/or designated advocates.
An IEP typically includes the following:
How the child with a special need is involved and makes progress in the general curriculum.
The various services the child requires and is qualified to receive.
Appropriate educational accommodations necessary for the child to be successful.
The educational performance level of the child during that time.
Yearly goals and objectives for the child's education.
However confusing the process of getting an IEP for your child might be, it is important to know how it works. After evaluating your child for special education, the school will decide whether your child qualifies for services and supports.
Who Needs an IEP?
All teachers are motivated to understand the need for individual education planning for a wide range of students with individual needs. Most IEPs are prepared for students who require assistance for behavioural and learning or cognitive skills. An IEP will only be developed when the concerned parents or staff together decide that an IEP is essential to meet the special needs of a particular student. An IEP must be developed for a student who needs course modifications (M designation) or individualized programming (I designation).
What are the stages of developing an IEP?
There are few stages involved in developing an IEP. They are:
gathering and sharing information
setting direction
developing and writing the IEP
implementing and reviewing the IEP
These stages may occur in a different order or may be developed simultaneously, depending on the individual needs of the student. Being a parent or a member of your child's team, you can actively involve in all stages of the IEP-development process.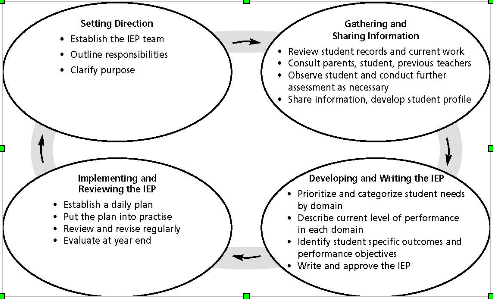 Stage 1: Gathering and Sharing Information
You can gather valuable information in the early stages of developing IEP for your child and set the direction. You can share certain knowledge about your child in areas like:
aims and dreams of your child
interests and desires
strengths and requirements
Stage 2: Setting Direction
Prioritizing things is important to educate your child every year in school. At this point, the team works on these priorities based on all the gathered information so far.
Stage 3: Developing and Writing the IEP
You are free to offer any ideas or information, as part of the team for deriving the desired student-specific results. These outcomes or results portray the accomplishments of students in a specific area, in a certain amount of time during the school year.
Stage 4: Implementing and Reviewing the IEP
In this stage of the process of IEP development, the team members review the student-specific outcomes and check whether they have met the goals or not through various teaching and evaluation strategies. The team also reviews the content of the IEP with the student's timetable (either classroom or individual) to check that the IEP is being conducted daily.

In case if you are in the teaching field and want to know more about IEPs, you can enrol for special educational needs courses and gain experience in developing IEPs in your school. Not only teachers, parents can also get a deep insight about the IEP through the program. We can thus conclude that the IEPs are most effective in promoting the process of student learning that involves parents as active and equal team members in planning and implementation of the program.
Kolkata Office
Merlin Acropolis, Unit No 15/4, 14th Floor, 1858/1, Rajdanga Main Road, Kolkata, 700107
+91-6292150868
+91-6292137532
Bangalore Office
SAI PREMA', 3rd Floor, Christ Lane,No.39, Krishnanagar Industrial Area,Near Forum Mall, Koramangala,Hosur Road,Bangalore – 560 029
+91-6292150868
+91-6292137532
Mumbai Office
Dahisar, Mumbai
+91-6292150868
+91-6292137532
Disclaimer:All SEN Courses are designed, developed and created by Asian College of Teachers Ltd, United Kingdom. These courses are certified by CPD Certification Service UK and endorsed by NCC Education, UK, and Short Courses from CACHE, UK through Laser Learning UK.
© 2023 Asian College of Teachers. All Rights Reserved. Asian College Of Teachers is a trading brand of TTA Training Pvt. Ltd (India) - CIN U80902WB2016PTC215839, Asia Teachers Training Co., Ltd (Thailand) - Registration No. 0105558193360, Asian College Of Teachers Ltd (UK) - Company Number 9939942 & Asian College Of Teachers LLC, (USA) - Federal Tax Identification Number 30-1261596
Designed by kreativewebtech
SSL Certificate