Understanding the Concept of Mental Retardation While Teaching Special Needs Children
30th October 2020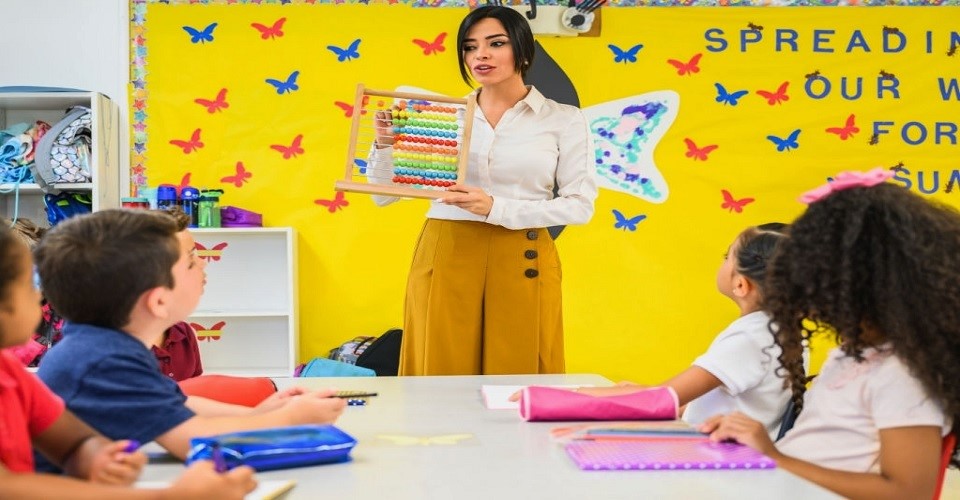 Mental retardation (MR) is one of the more common developmental special needs and can be idiopathic plus challenging to identify in general children who have developmental delays. Its identification consists of three criteria: concurrent, significant limitations in both intelligence and adaptive skills that begin in childhood (birth to age eighteen).
Definitions of Mental Retardation
As per the IDEA (Individuals with Disabilities Education Act) definition, the mental retardation is an expressively sub-average common intellectual functioning, existing concurrently with deficits in adaptive behaviour and manifested during the growing-up period adversely affecting a child's educational performance.
As per American Association on Mental Retardation (AAMR), Mental retardation is "significantly sub-average general intellectual functioning accompanied by significant limitations in adaptive functioning in the least two of the following skills areas: communication, self-care, social skills, self-direction, academic skills, work, leisure, health and/or safety. These limitations manifest themselves before 18 years of age."
Characteristics of Mental Retardation
The principal signs of mental retardation include poor motor skills, reduced language skills, as well as self-help expertise that do not seem to be developing than the child's peers.
Here are some of the common characteristics of the mental retardation: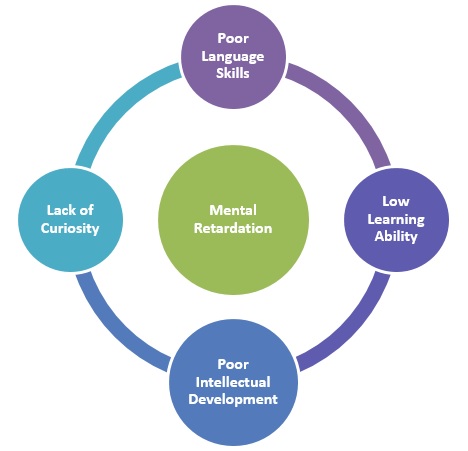 The mentally retarded child may also fail to adjust himself/herself to the different new circumstances. In the case of mild mental retardation, these indications may not be identified until school age. The nature of mental retardation varies extensively, from deeply decreased to insignificant or marginal retardation. Children with mental retardation also frequently show shortfalls in self-rule aids as well, counting areas such as decision making, problem solving, as well as objective setting.
Causes of Mental Retardation
Different causes of mental retardation can be fragmented into the following categories:
Chromosomal abnormalities such as Down syndrome
Environmental issues such as deprivation syndrome
Nutritional Problems like Malnutrition
Genetic abnormalities
Infections
Metabolic such as congenital hypothyroid
Toxic such as lead or mercury poisoning
Dietary issues
Trauma (can be before and after birth)
Severe head injury
Tay-Sachs disease
There are four levels of Mental Retardation – 1. Mild 2. Moderate 3. Severe and 4. Profound.
With the improved health care, a lot of cases of mental retardation cases have been prevented with the thorough knowledge which can be learned from SEN teacher training online. With suitable support, learners with mental retardation can accomplish a better quality of life in numerous different characteristics. Here, the curriculum as well as teaching must be sensibly amended to support these learners to reach their potential in academics and other practical areas of life. Individuality and self-reliance should always be major goals of all instructional strategies employed with students with mental retardation.
The special education teachers have to deliver the specific instruction with a number of skills areas apart from just the general curriculum to address the precincts experienced by those with mental retardation. These assistances are more practical in nature but are necessary for the future objectivity of the student.
Useful teaching strategies for teaching students with mental retardation consist of:


Here, the use of assistive technology is a different yet important instructional strategy. Many software packages have been intended to support students with mental retardation in the classroom. These consist of an audio-video based curriculum that can be accustomed to the teacher to meet the explicit academic aptitudes of the student.
Even though, the term mental retardation is still widely used within education, numerous groups feel that this label has too many negative implications. Therefore, educators need to understand better how to assist these students in the conventional learning practice and also train them for the transition to adult life.
Written By: Gargi Sen