Support Students With VATER Syndrome To Achieve Success Academically
18th August 2023
Teaching is one of the noblest professions and it comes with many responsibilities to fulfill for the greater good of society. One of the major responsibilities which not every teacher could fulfill easily is to address the unique need of special education students. However, it has been found that majority of the SEN (Special Education Needs) students don't even get access to SEN (Special Education Needs) classrooms.
According to a survey of 150.statcan.gc, it has been found that most children with special needs don't attend special education classes.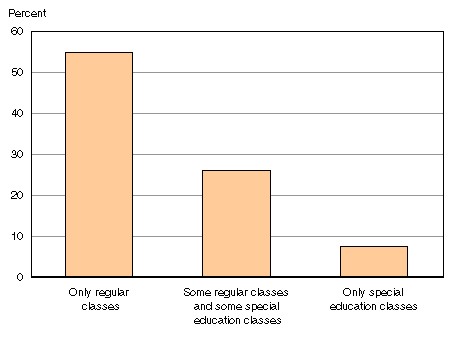 Source: 150.statcan.gc.ca
Teachers may or may not be aware that some of the special need students may be going through VATER syndrome which is a non-random association of birth defects that affect multiple organ systems. It is a rare condition, occurring in approximately one in 10,000 to 40,000 children.
SEN (Special Education Needs) teachers who have pursued courses like special education courses, play a crucial role in supporting students with VATER syndrome as they have adequate knowledge on how to navigate SEN (Special Education Needs) student's educational journey.
However, in this blog post, we will explore the symptoms, causes, diagnosis, and treatment of VATER syndrome, and discuss effective strategies that SEN (Special Education Needs) teachers can employ to help students with this condition thrive in the classroom.
Before moving to the topic, can we ask you a question? Do you follow us on Social Media? We regularly share upgraded educational content, tips, feedback, and more. Check us out by clicking the profiles here – Facebook / Twitter / LinkedIn / Pinterest / Instagram / YouTube
So, without any further delay, let's get started.
Understanding VATER Syndrome
So before knowing how to support children with VATER syndrome, we first need to have a clear idea of what VATER syndrome actually is. It basically describes a group of abnormalities that happens from the early development of the embryo development during pregnancy.
VATER is an acronym of -

Vertebra(V)
Anus(A)
Trachea(T)
Esophagus(E)
Renal (kidney)(R)
which is being affected since fetal development and didn't form properly. It's also called VACTERL where C & L describes – Cardiac (heart) and Limb & Radius which are also affected since the early days of the children.
While, VATER syndrome can cause significant physical challenges to children, it does not affect intellectual function. Most of the children's intelligence levels may function normally, however, they may face challenges related to physical health, development, and mobility.
Supporting Students with VATER Syndrome in the Classroom
Now, let's get to know how as a SEN (Special Education Needs) teacher you can support your children with VATER syndrome in the classroom successfully.
1. Collaborate with healthcare professionals
One of the important steps for any SEN (Special Education Needs) teacher to support children with VATER syndrome is that they need to get associated and work with healthcare professionals, such as occupational therapists, physical therapists, or even general doctors so that they can have a clear idea of the unique need of every student.
According to the unique need of students, teachers can create strategies with health professionals to support physical and educational needs.
2. Implement individualized education plans (IEPs)
An IEP can help to create specific learning goals, support services, and accommodations which is necessary for the student's academic success. You can review and update the IEP with the help of collaborating with parents, health care professionals, and students as well.
3. Ensure physical accessibility
Make necessary adaptations to the classroom environment to ensure physical accessibility for students with mobility challenges. This may include installing ramps, providing adjustable desks or chairs, and creating designated spaces for physical therapy exercises if required.
4. Support fine motor skills development
Students with VATER syndrome may experience challenges with fine motor skills. Incorporate activities and exercises that focus on improving hand-eye coordination, dexterity, and handwriting skills. Occupational therapists can provide valuable guidance in this area.
5. Promote peer interactions and social skills
Encourage peer interactions and foster social skills development within the classroom. Group projects, cooperative learning activities, and inclusive games can provide opportunities for students with VATER syndrome to build social connections and develop essential social skills.
6. Offer additional time for physical activities
Allow students with VATER syndrome extra time for physical activities during breaks or physical education classes. This will enable them to participate fully and engage in exercises that promote their physical well-being.
7. Academic support
Offer additional academic support as needed, such as extra tutoring or modified assignments. Adjust the pace and complexity of the curriculum to ensure that students with VATER syndrome can fully engage and succeed academically.
8. Educate classmates about VATER syndrome
Raise awareness and promote understanding among classmates by educating them about VATER syndrome. Arrange presentations or discussions where students can learn about the condition, its challenges, and how they can be supportive peers.
Remember, each student with VATER syndrome is unique, and their needs may vary. Regular communication with the student, their parents, and healthcare professionals is essential to ensure their individual needs are met effectively.
9. Provide assistive technology
Assistive technology can greatly enhance the learning experience for students with VATER syndrome. Consider providing tools such as text-to-speech software, speech recognition software, or adaptive keyboards to support their communication and learning needs.
Special Education Needs Teachers can help Children with VATER Syndrome To Thrive
Every student has unique learning and growth needs and it's the teacher's responsibility to address their need so that they can achieve success. Teachers who have pursued courses like special education courses knows the unique need of children with special need and how to address them properly.
One of the syndromes that many children face is VATER syndrome or VACTERL Association which is a very non-random association of birth defects that affect multiple organ systems. However, in this blog post, we have mentioned several ways to support VATER syndrome students in the classroom and how you can create an inclusive learning environment for them as well.

We believe education should be accessible for everyone. That's why we don't charge for our blogs. Find the right course that will help you in your career with us, contact us at - Call -+66-21055721 and Whatsapp - +1 213 233 9490. You can mail us at act@asiancollegeofteachers.com
Written By: Aditi Ghose