What To Ask A Special Education Teacher?
16th June 2022
Children with special needs cannot be recognized or diagnosed from the beginning with naked eyes. Generally, doctors analyze their behavioral patterns and after evaluating the mental thought process can come to a conclusion if a child is specially-abled or not.
Diagnosis of autism is possible when the child is 24 months older or so but in some cases, doctors can figure out when the kid is 18 months old. A diploma in autism will help a special ed educator to have a conversation with doctors regarding the status of autism a kid is having. Autism courses online are pursued by numerous special needs educators who want to cater to the needs of gifted children.
There is always a process of referral whenever a parent, a teacher, or a doctor is worried that a child is having special gifts like autism, down syndrome, ADHD, learning disabilities, etc. A special needs educator having a diploma in autism will always feel confident enough to coordinate with parents and doctors while providing the required service to the special child. The course content is totally updated to the 21-st century classroom learning environment and a special ed teacher will have no problem taking care of kids after successful completion of the course.
A degree in special education (autism courses online) provided by the Asian College of Teachers is internationally accredited and endorsed. Therefore, a special education teacher having this globally recognized certificate will always help specially-abled kids in a monumental way. Often a simple question confuses parents what could be the possible and the best differences in the case of special education teachers vs regular teachers. Check this below: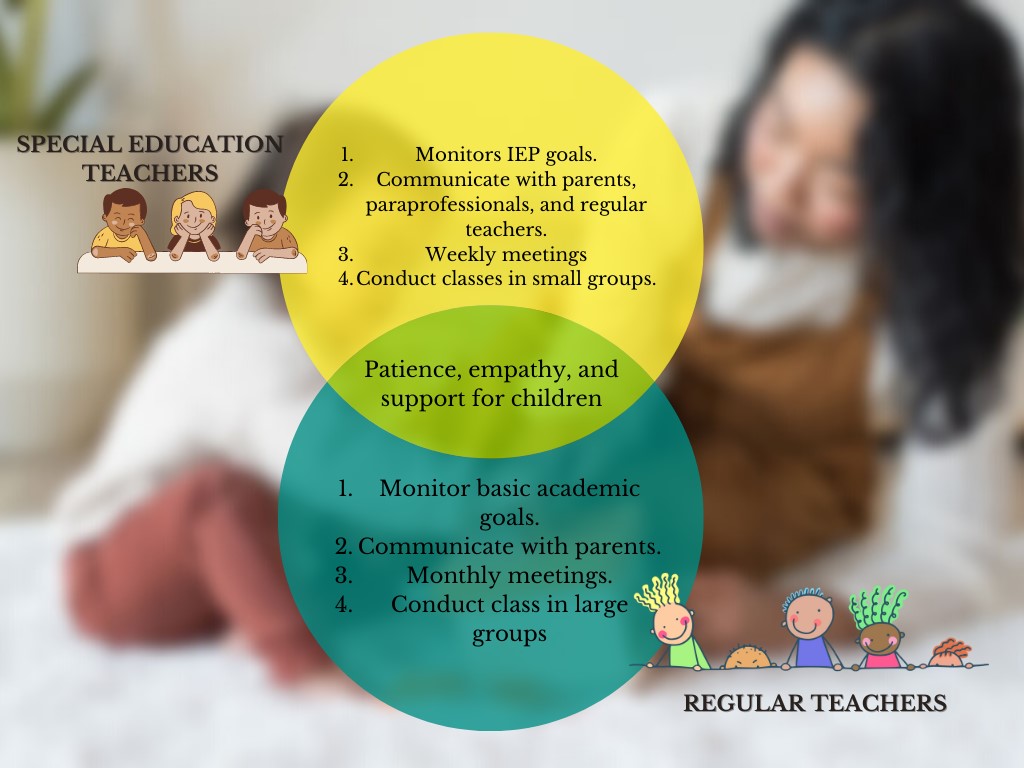 Well, special education teachers must have some special traits or abilities. Learners pursuing a diploma in autism wonders that apart from having an awesome theoretical knowledge of how to be a good special education teacher what is the greatness of teaching special education to children with special abilities.
Dragging the referral procedure, when parents decide that they want to have their kids assessed if they're at all gifted, a team is considered that evaluates kids from every possible angle to draw a conclusion. The team consists of a doctor, a special education teacher, a psychologist, a physical therapist, an occupational therapist, a speech therapist, and a vision or hearing expert. Therefore, it can be definitely understood the importance of special education teachers and their contribution to evaluating a kid's thought process matters a lot.
Besides parental involvement, it is a special education teacher who will hold the hand of a special kid and help her/him to grow personally and down the line professionally by overcoming all obstacles. But there are certain questions to ask a special education teacher before parents give them the responsibility of taking care of their extraordinary children.
Special needs educators must know these 5 strategies:

The first thing that parents should know is if they will be following the IEP or will there be any other special lesson planning. Let's get to know what IEP means. IEP stands for Individualized Education Program that is specially crafted for kids with rare talents. Special needs students who need extra care, and support, and want to get along with the common folk conveniently. IEP helps students learn about various things like academic stuff, how to communicate with others, social interactions, etc.
Often it is seen that special education teachers offer extra lesson structure for specially-abled kids so that their necessary skills develop properly. This separate curriculum can be taught to kids in an inclusive classroom as well by creating small groups of students. Regular teachers can also practice such sessions but needless to say, their expertise is not supposed to be that high as compared to a special ed teacher.
In order to get certified with a diploma in autism, a teacher must have a 10+2 qualification. However, if parents want to know if a special ed educator is having a bachelor's degree or a master's degree they should ask teachers upfront. Special education teachers do not tend to reveal their academic qualifications unless asked. While having a special education teacher interview either in school, recruiters should be aware of these details.
If I quote the great Newton, I must say that every action has an opposite and equal reaction. Also, every great thing happens where there is a fool-proof effort. Special education teachers always believe that parents should be aware of everything that is happening around and with their kids and this effort of communication should not be just one-sided. The communication channel between parents and special ed teachers should be always smooth to ensure the better growth of specially-abled children.
Often regular teachers collaborate with special ed teachers in order to provide help to gifted children. They try to come to the same page and chalk out some special strategies to help a special child with whatever problems she/he is facing. However, there have been multiple scenarios where there has been a matter of conflict in deciding the exact curriculum for gifted children. Either of them may complain to the parents that the other is not listening to the required solution. Such conflicts must be resolved as soon as possible.
Even though special ed teachers will have a diploma in autism yet parents are always recommended to consult a doctor and a psychologist before taking any step. A special ed teacher will be always ready to help children with special needs. A special education teacher works with utmost dedication and she/he has endless love for specially-abled children.
If you really want to become a special-ed teacher, call our toll-free number: 1800-212-6400.
Written By: Sonal Agrawal